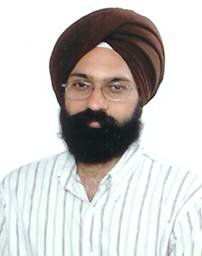 Dr. Navneet Singh, Professor
Email: singh.navneet@pgimer.edu.in; singh.navneet@indiachest.org
Website: Institute profile page; Google Scholar; LinkedIn profile page
Dr. Navneet Singh MD DM is a thoracic medical oncologist/pulmonologist and currently Professor in the Department of Pulmonary Medicine at the Postgraduate Institute of Medical Education and Research (PGIMER), Chandigarh, India. His primary area of clinical expertise and research is thoracic oncology especially management of advanced/metastatic non-small cell lung cancer (NSCLC). Dr. Singh is the coordinator-cum-convener for PGIMER's multidisciplinary thoracic oncology group that received the Lung Cancer Care Team Award (Overall Winner and Winner from Asia/Rest Of World) of the International Association for Study of Lung Cancer (IASLC) at its 20th World Conference on Lung Cancer (WCLC) in Barcelona, Spain [September2019].
He has 190+ publications in peer reviewed medical journals, authored several chapters in books and was a nominated member of IASLC's Publications Committee for two successive terms. He is also currently IASLC's regent for South Asia, an invited member of its Staging and Prognostic Factors Committee and invited faculty-cum-program committee member for its annual WCLC.
A past recipient of the prestigious International Development & Education Award (IDEA) of the American Society of Clinical Oncology (ASCO), Dr. Singh served as Chair of ASCO's IDEA steering group (2018-20) and is currently an invited member of ASCO's Special Awards Selection Committee. He has been an invited member of ASCO's Thoracic Cancer Guideline Group and of expert panels that developed clinical practice guidelines on A) Molecular Biomarker Testing in advanced/metastatic NSCLC; B) Surveillance after curative-intent treatment of lung cancer; C) Systemic therapy for stage-IV NSCLC all of which have been recently published in ASCO's flagship Journal of Clinical Oncology.
He has been instrumental in the organization of four editions of the Lung Multidisciplinary Cancer Management Course – joint efforts between ASCO; PGIMER Chandigarh; Tata Memorial Hospital Mumbai and the Indian Society for Study of Lung Cancer – at Chandigarh (2014, 2018) and Mumbai (2016, 2020). He was a past member of ASCO's Multidisciplinary Cancer Management Course (MCMC) working group as well.
He played a key role in the signing of a Memorandum of Understanding between PGIMER and ASCO in 2018 and is the primary contact for this collaboration.
Dr. Singh has been a recipient of several awards and honors for his research in the area of lung cancer including American Association of Cancer Research-National Cancer Institute (AACR-NCI) International Investigator Opportunity Grant (2009); of European Society for Medical Oncology's (ESMO)'s Translational Research Unit Visit (2010) and Palliative Care (2012-13) Fellowships; the Kamal Satbir Award of the Indian Council for Medical Research (ICMR; 2014) and ISSLC's Oration on Lung Cancer (2017) in addition to travel grants for several international meetings.
Dr. Singh has been elected fellow of Royal College of Physicians (London), American College of Physicians (FACP), American College of Chest Physicians (FCCP) and Indian Chest Society. He has served as a reviewer for several international journals including New England Journal of Medicine.
Developed and Maintained by Ajay Grover
1631